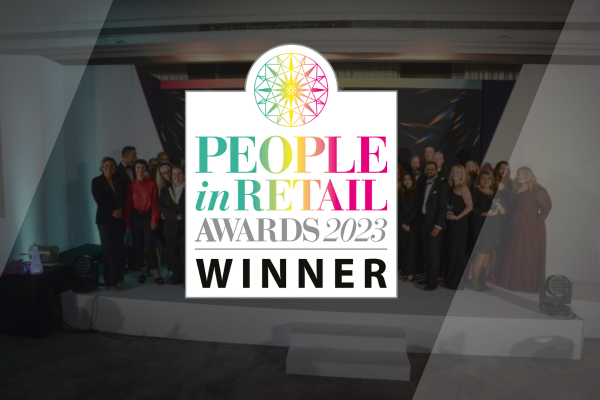 The champions have been announced for the People in Retail Awards 2023, recognising and celebrating the exceptional individuals and businesses in the retail sector. Held on 21st September at the Marriott Hotel, London, the awards shone a spotlight on those who have made remarkable contributions and demonstrated excellence; inspiring and setting a benchmark for the
Read more >
News
Shining stars: The 2023 Winners
23 September 2023 by Natalie Fresen
The champions have been announced for the People in Retail Awards 2023, recognising and celebrating the exceptional individuals and businesses in the retail sector.
Held on 21st September at the Marriott Hotel, London, the awards shone a spotlight on those who have made remarkable contributions and demonstrated excellence; inspiring and setting a benchmark for the entire industry. From outstanding employees and managers to innovative retailers and industry leaders, the People in Retail Awards honoured the vital role that people play in the success and growth of the retail sector.
This year's distinguished winners are:
Retail Employer of the Year – Sue Ryder
Employee of the Year – Jason Brownlee of Charles Tyrwhitt
Retail Manager of the Year – Georgia Perry of Lounge Underwear
Rising Spark – Jake Worrall from Dreams
Executive Leader of the Year – Heather Lee of Lincolnshire Coop
Mentor / Trainer of the Year – The Perfume Shop
Store Champion of the Year – Fortnum & Mason's Royal Exchange team
Spirit of Excellence Award – John Lewis Partnership
Spirit of Excellence Award – Nicole Bonner of AllSaints
Customer Service Champion – Kieran Brown of ScS
Diversity Challenge Award – AF Blakemore
Ecom and Tech Engagement Award – MGM Timber
An esteemed panel of 19 industry experts judged entries including the likes of Chris Brook-Carter, Chief Executive Officer at The Retail Trust, Ken Daly, CEO at JML and Beth Samson, People Director at Investors in People.
A spokesperson for the judging panel said, "This year's shortlist represents a remarkable group of individuals and businesses who have made outstanding contributions and demonstrated excellence in the retail sector. They have raised the bar for the industry, inspiring others and shaping the future of retail."
Natalie Fresen, Chief People Champion for PIRA 2023, added, "After a tough couple of years in the retail industry, we were thrilled to launch these awards and demonstrate the importance of making people feel valued and appreciated. We recognise that people are at the very heart of a business. Happy employees go the extra mile simply because they feel connected to an organisation that cares about them, and they want to contribute.
"To us, this is something to be immensely proud of and the driving force behind these awards. We extend our heartfelt congratulations to all the winners and finalists!"
Karen Howard, Managing Director of The Retail Bulletin commented: "The People in Retail Awards 2023 was a true testament to the unity within our industry. As we celebrated outstanding individuals and businesses, it became evident that together, we shape the future of retail with passion, dedication, and a shared commitment to excellence."
RELATED ARTICLES
TAGS