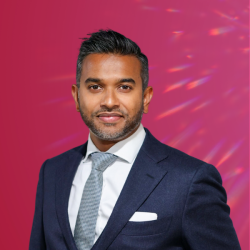 Sean Ghouse
UK Retail Director
Fortnum & Mason
Sean Ghouse is the UK Retail Director for Fortnum & Mason, with a career in Retail which began almost 30 years ago, working part time in menswear brand Ciro Citterio on Regent Street, whilst attending university completing a BA honours in Human Resource Management & Psychology at Southbank University.
Sean's passion for product, customers and people management developed at Harrods where he was responsible for their Men's Formal Wear. His career went on to include spells as Area Manager, Menswear at Selfridges, before joining NikeTown London as their General Manager. Several senior Retail roles followed as he joined Matches Fashion.com, before heading up Retail for Dunhill's flagship in Mayfair. He was also Head of Customer Experience at Watches of Switzerland, Store Director for LVMH, and after running his own consultancy briefly – to take time off for the birth of his son – he joined Fortnum & Mason.
A committed people person, he is passionate about the next generation of retail talent in the UK and works to promote the industry whenever possible. He describes working for Fortnum's as 'the greatest privilege' and is an integral part of the team working on their innovative 5-year strategy.
Sean is also a dedicated family man, and has held numerous roles within the industry including as a: Retail Trust Ambassador; Felix and Centrepoint champion, Black Business Institute Advisory Board Member; Board Member for the Cheapside Business Alliance; Chairman of the Jermyn Street Association; Walpole Ambassador, and; London Business School Mentor.