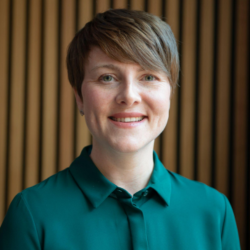 Kasey Swithenbank
Head of Retailer UK&I
Lush
With over 13 years of experience in retail at Lush, Kasey has a breadth of knowledge from managing and directing over 100 Lush shop managers and the mission to innovate high streets.
Her journey to this point has been nothing short of inspirational. Joining Lush as a Sales Associate in the Cardiff shop in 2010 and moving through the ranks to shop Supervisor within the same year, to the Shop Manager from 2012 through to 2017.
Joining the UK&I Retail team as a Retailer in 2017 where Kasey worked for 6+ years before her recent appointment in 2023 to Lead Retailer of UK&I Retail. She shares some of her personal career highlights so far below:
"I'm extremely passionate about our highstreets being memory makers for visitors and believe Lush shops create lasting memories for customers with our staff being day makers. Along with offering experiences beyond retail shopping like spa, parties and more. I'm excited to continue building upon Lush's success in these areas."
Kasey is hugely passionate about customer experience, sales initiatives and employee engagement which led her to innovative ways of interaction phygitally; introducing "virtual shop visits" during the height of the pandemic. She is also championing parental rights in the workplace and shares her pride working for a company that pays the full 6 month pay for those on parental leave:
"Having two young children, I'm a big advocate of finding a balance between home and work life and believe the skills working parents bring to a business are crucial and reason alone for businesses to offer flexibility. I'm very proud that through the support I've put in place at Lush our percentage of Retail Managers returning to the workplace after parental leave has increased to over 90% in the last 3 years."
Following Lush Retail's record breaking success in December 2022, in 2023, the retailer looks forward to continuing Lush's investment across Retail with a new Anchor (flagship) shop opening in Glasgow, aiming to provide the ultimate Lush experience; along with a relocation for
the Lush Bristol shop in the Spring and continued investment in shop manager development.